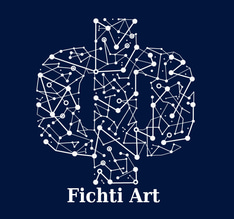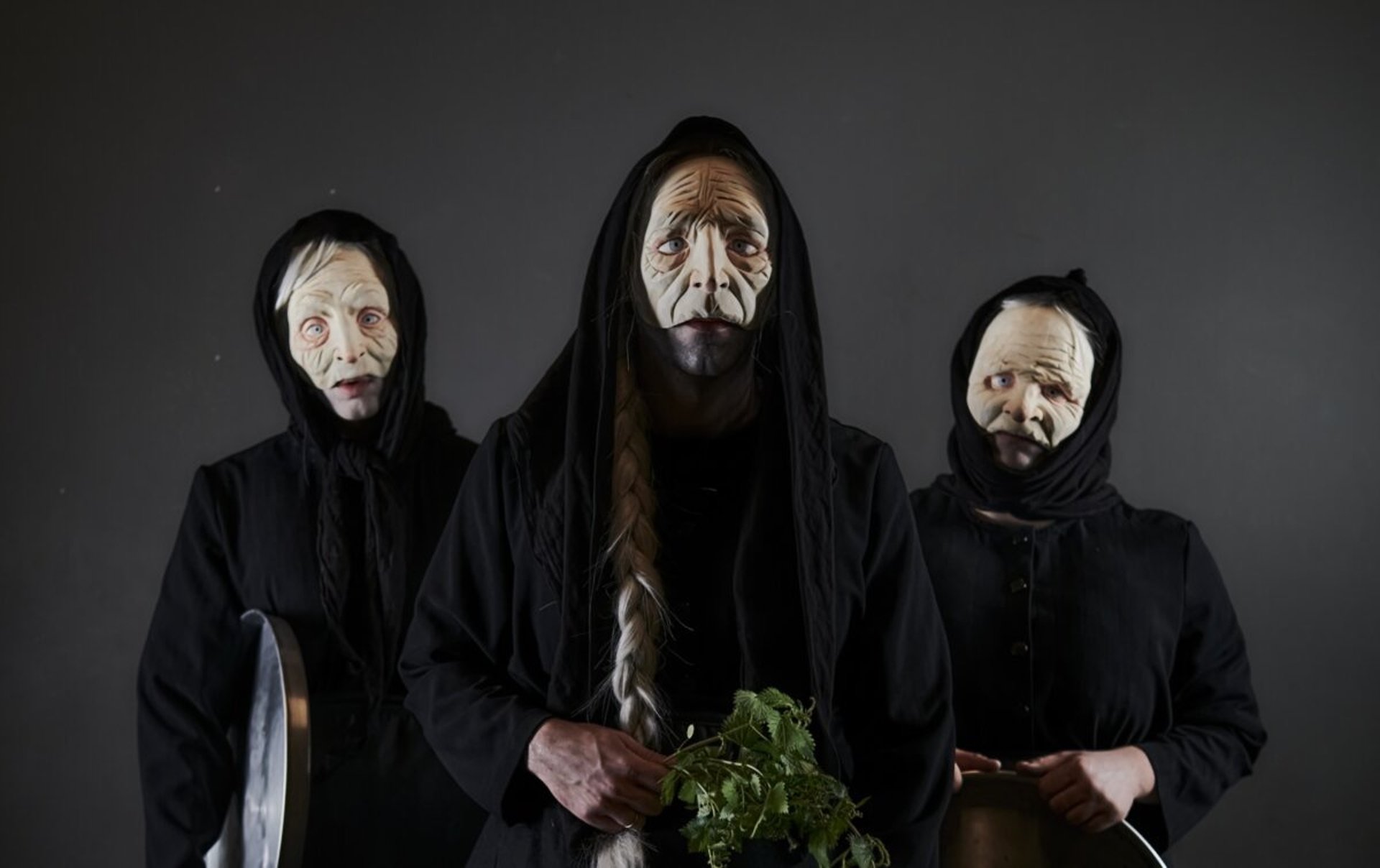 The nettle-gathering old women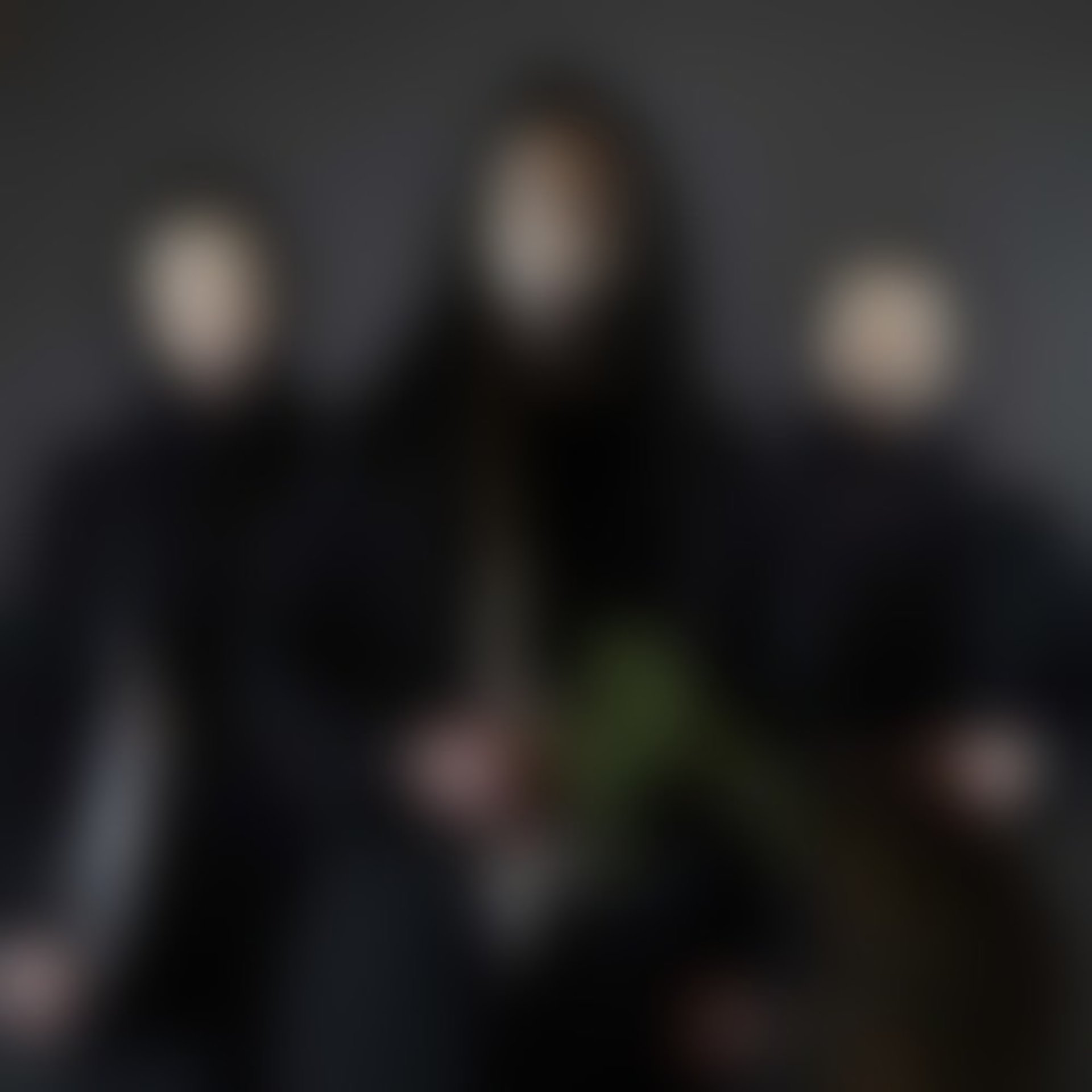 From the Experimental Stage of Thessalian Theater 2023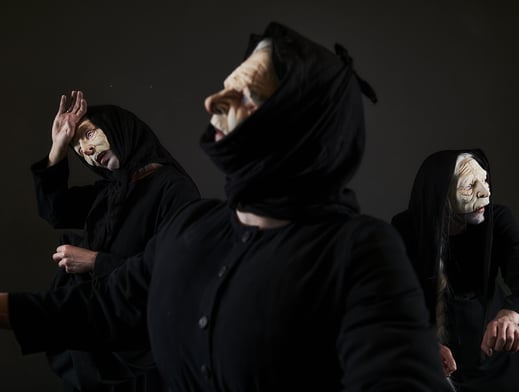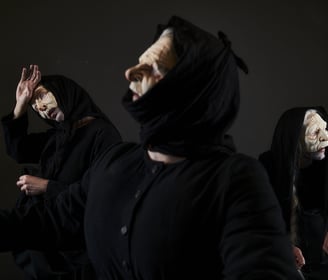 The Experimental Stage of Thessalian Theater, always daring and groundbreaking, presents for the first time in the history of the theater a performance inspired by Thessalian folklore in a contemporary stage form, which reintroduces this material to us in a different way. The performance "The nettle-gathering old women, witches and cooks of the secret Thessaly" directed and dramaturgically edited by Kostantinos Della, is a work in progress stage approach to the connection of magic with cooking as a women's secret code of the Thessaly region.
In the shadow of the dominant male power, women remained on the sidelines without having a say in the decisions that are the right of men. Apart from the tasks with which they contributed to the economic production of the family and the community as workers, they also had the responsibility of feeding their family members, but always within the house. Thus, they developed a secret code, a latent power, based on the use of magic, "practices", divination and other skills, through the use of the ingredients they use in cooking, the herbs and grasses of the region, the oil , water and flour.
In Thessaly, tradition has the witches of the region having received their secret skills from Medea and specializing in bringing down the moon. This activity remains known until recent times in the Thessalian area.
Three young actors approach the female body on stage, as recorded in their own bodies, through references to their own grandmothers. With expressive tools that are the raw materials of the ritual process, such as the mask, the coordination of speech and body, they explore storytelling techniques and lead us to the secret Thessaly of magic and cooking.
Starting with the stages of the creation of the pie, we are told stories from Ovid's Metamorphoses and Lucan's Pharsalia, but also from modern Greek literature and research, from traditional songs and interviews of women to 19th century medical codes and shed light on the lives of of old women of the Thessalian region who for years kept secret.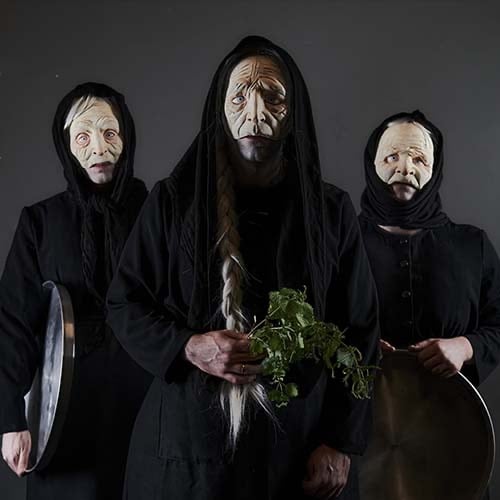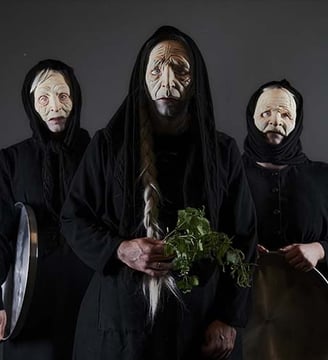 Direction - dramaturgy: Kostantinos Dellas
Sound environment - original music: Alexandros Ktistakis
Motion editing: Mariza Tsiga
Mask creation: Martha Fokas
Costumes: Konstantina Mardikis
Assistant director: Manto Katsougri
Production Director: Nikos Georgakis
Lighting: Makis Papatriantafillou
Sound: Giorgos Golantas
Photos: Makis Papatriandafillou
Program photos: Panagiotis Lampis
Performance photos: Alexandros Efthymiopoulos
Trailer: Dimitris Vallas, Life of Film production
Graphic editing (poster-program): Smudge
The actors (alphabetically):
Manousos Georgopoulos
Giorgos - Platonas Perleros
Yannis Sanidas.
Time of the play: 30/7/2023 21:00, at Mycenae Station, Fichti